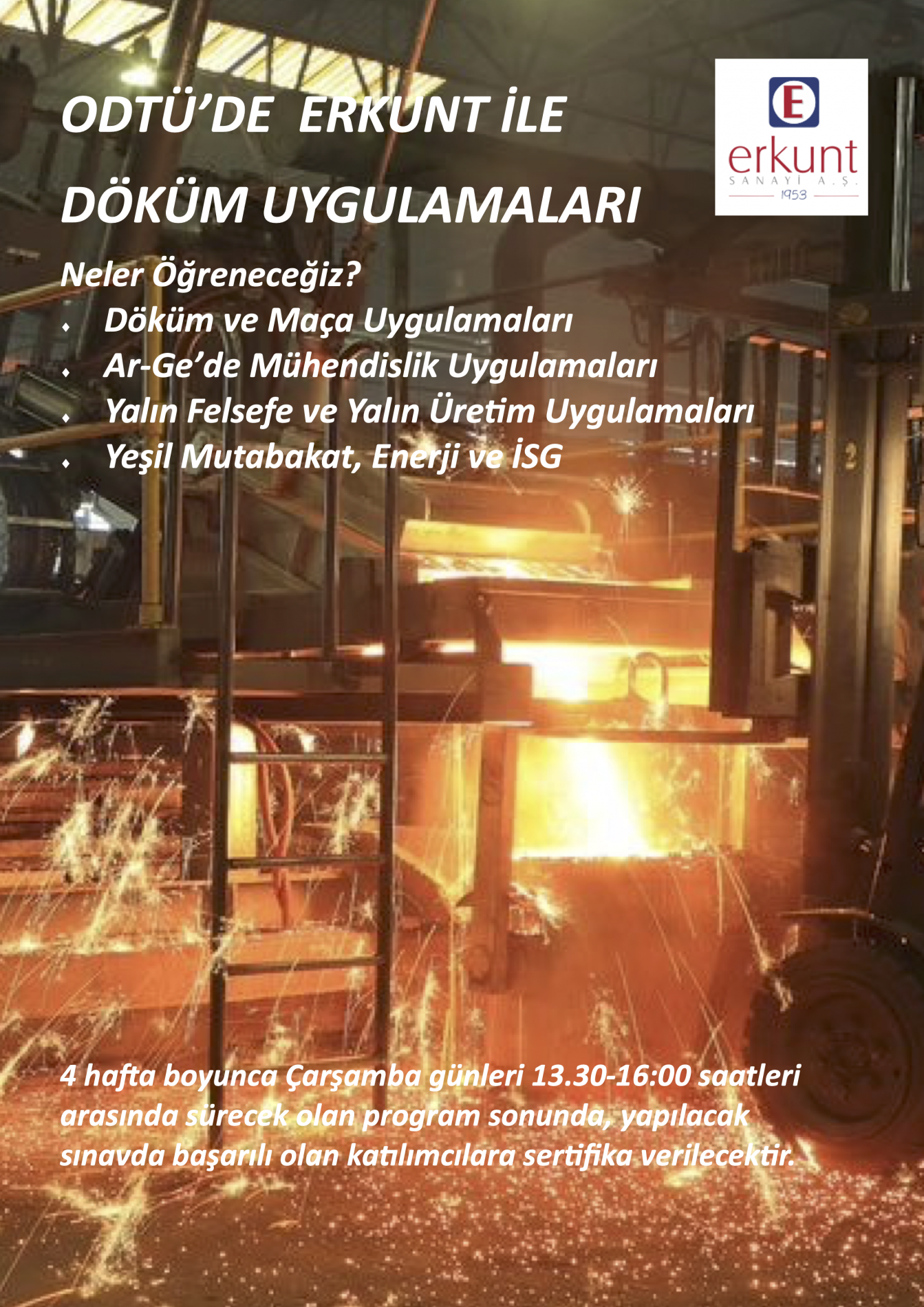 ---
The Certificate Program for Casting Industry Applications Starts with Erkunt A.Ş. at METU
Shape and improve your career in the certificate program designed for Metallurgical and Materials Engineering (MetE) students.
Successful participants will be awarded with a certificate at the end of the 4-weeks program.
Those who want to participate for the program should fill out the participant information form given below.
The selection of the applicants and their evaluation process will be done by Erkunt A.Ş. managers together with Prof. Dr. Abdullah ÖZTÜRK.
The list of the selected students will be announced on the department website after the evaluation process is completed.
Application Deadline: 31/03/2022 at 17:00. Late applications will not be evaluated.
ERKUNT - ODTÜ İŞBİRLİĞİ SERTİFİKA PROGRAMI
Hafta
Konu
Yer
Tarih/Saat
Personel
1. Hafta
Erkunt tanıtımı, Döküm üretim süreçleri
Entegre Yönetim süreçleri ve mühendislik uygulamaları
Yalın Felsefesi ve Yalın Üretim Uygulamaları
C-Aud

06.04.2022

13:30-16:00

Veysel Durak
Cansu Toloğlu
Merve Mergen
2. Hafta
Ar-Ge faaliyetleri mühendislik uygulamaları
Çevre - İSG
Yeşil Mutabakat- Enerji
C-Aud

13.04.2022

13:30-16:00

Merve Ulular
Berivan Boduroğlu
Veysel Durak
3.Hafta
Ankara DF-1 ve MF-1 Fabrikaya teknik gezi (Döküm ve maça uygulamaları )
C-Aud

19.04.2022

13:00-15:30

Yalçın Badem
Emrah Eroğlu
4.Hafta
Fabrika Müdürü & İnsan Kaynakları ile söyleşi
C-Aud

27.04.2022

13:30-16:00

Dilek Gündüz
Aykut Turan
Mustafa Koparan